New Jersey arts and entertainment news, features and event previews.
news , features , Preview , planning
Originally Published: 09/21/2022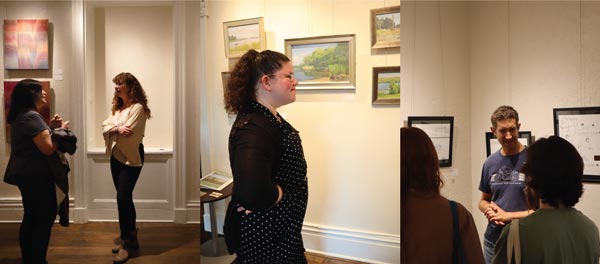 (Hawthorne, NJ) — On Saturday, September 24 from 4:00 p.m. to 6:00 p.m., an opening reception is being held in the County of Pacific. My Own Witness: Breakdown and RepairBy Donna Bassin, an award-winning photographer, artist, writer and filmmaker, texture in natureby New Jersey-based artist Susan Zuloff, and a traveling exhibition from New York University titled: Stereotypes in US Popular Culture, Additionally, two recently featured installations can be seen, at Cemento VeritasMario Loprete and . By sonic peaks, by Peyton McDonald. All performances will be on display from Saturday, September 17th to Sunday, November 27th John W. Passaic County Arts Center at Ree House,
My Own Witness: Breakdown and Repair Explores the human desire for reconciliation in the face of social rifts. Bassin's work has appeared in numerous group exhibitions from New York City to Los Angeles. His photographs have also been commissioned for book covers and private collections.
"My art is influenced by my work as a clinical psychologist, and my experience working with war veterans, and at Ground Zero in lower Manhattan," Bassin said. "I use art to explore the creative edge of collective loss, mourning, mourning, and change."
Susan Zlauf's 'Artist's Impression' exemplifies texture in natureHis work is reminiscent of Fauvism, a method of painting involving vibrant expressionist and non-naturalistic applications of color that flourished briefly in Paris as early as 1905.
"Nothing gives me more pleasure than to see my paint, paper, foil, and stencil on canvas," Zuloff said. "When I start painting my sight can completely turn into a pleasant surprise. Beautiful textures are seen in nature. A huge cloud, the wind-swept fields, the texture of a leaf, all these layers of nature's beauty that I try to build."
Advertise with New Jersey Stage for $50-$100 per Month, Click Here for Info
---
NYU's Stereotypes in US Popular Culture Unveils and evaluates stereotypical depictions of ethnic groups in American popular culture. This exhibit provides a historical framework for how these images range from movie stills to comic books – to tabloid cartoons. This lively presentation aspires to inform and encourage dialogue about the impact of labels on thought, both individual and nationwide.
Pasack County Arts Center at the John W. Ree House Opened in June 2019 and remains open Wednesday – Sunday from 11:00 AM – 5:00 PM. Admission to the art center and galleries is free. Those interested in showcasing their works can submit proposals on an ongoing basis. No registration is required to enter the galleries. Mask is required.
Advertise with New Jersey Stage for $50-$100 per Month, Click Here for Info
---