Results delayed again due to 'extraordinary circumstances': PM James Marape
Papua New Guinea's Prime Minister James Marape has acknowledged that the return date of election results could face legal challenges after the general election was marred by claims of violence and corruption.
Voting concluded on July 22 in the Pacific island nation's election, sparked by allegations of ballot tampering and dozens dead, thousands forced to flee homes, despite major police efforts to quell violence. .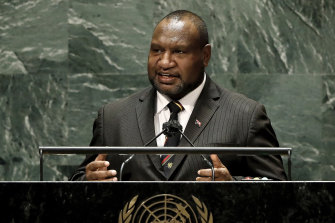 In the wake of the turmoil, the government on Friday announced an extension of the withdrawal of the writ – a procedural step to declare successful candidates – so counting of votes could continue among voters where the results remained unclear.
According to PNG Media, the original date of July 29 for return of the writ was initially extended to August 12, which was revised to August 5.
Marpe told ABC television that the decision to postpone could be challenged in court, but defended the move, saying "extraordinary circumstances" were leading to it.
"One can go to the courts to challenge, but based on the advice we have received, we feel that we have sufficient power. [PNG] The Election Commission has to make these calls, and they have made these calls," he said in the remarks broadcast on Saturday.
According to vote tracking site One Papua New Guinea, of the 118 seats that went to the polls, only 35 seats have been announced so far.
The two main contenders for prime minister in the 10th election since independence are incumbent Marape of the Pangu Party and former Prime Minister Peter O'Neill of the People's National Congress party. Marpe has held the top position at Port Moresby since 2019.