Shiba Inu Price Prediction July 2022: Should You Buy?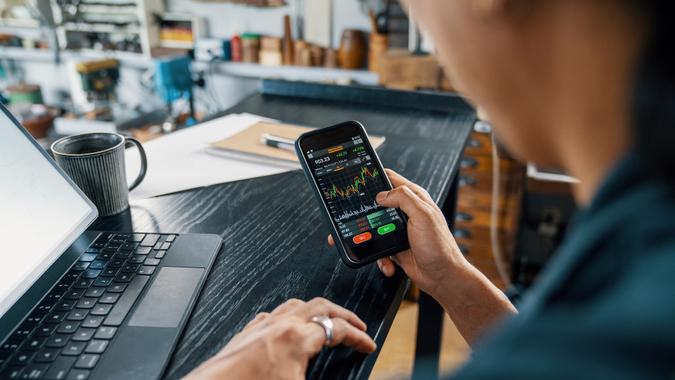 tdub303 / iStock.com
Digital currencies began in 2008 with the invention of bitcoin – money that could be created, traded and tracked over the Internet.
Since then, cryptocurrencies have multiplied. Some are designed to beat bitcoin in ease of use, cost, and speed. Others serve as tokens for new versions of the blockchain, a method of secure online tracking and bookkeeping that makes cryptocurrency possible.
Other new crypto coins were created just for fun. Shiba Inu is that kind of coin.
Furry Finances: How the Shiba Inu Was Created
Named for an adorable Japanese dog, the Shiba Inu cryptocurrency was born as a mockery of Dogecoin, which was designed as an imitation of Bitcoin. When entrepreneur Elon Musk used Twitter to promote Dogecoin, its value skyrocketed.
Then an anonymous person or group named Ryoshi came along with Shiba Inu, aka, the "Dogecoin Killer" in August 2020.
Dogecoin and Shiba Inu are both "meme coins" designed to represent hot trends or ideas rather than utility. Shiba Inu made Dogecoin headlines in late 2021, when Musk tweeted some pictures of his real Shiba Inu floki. With nearly 70 million followers, Musk's tweets created huge ripples in the financial and cryptocurrency markets.
Shiba Inu starts spreading like wildfire
Cryptocurrencies are measured by total market cap and price. Depending on the fleeting enthusiasm of traders, these metrics can and do swing wildly from day to day. Nothing supports cryptocurrency except its potential value as a store of value or a medium of exchange.
Since such value depends on marketing and technological innovation, and new digital money is constantly being created, dabbling investors are taking on significant risk.
a good year in 2021
The numbers for the Shiba Inu increased rapidly by 2021. The metrics peaked in October of that year when the price of the Shiba Inu coin reached $0.00008 – a 1000% increase over the past 25 days.
For a brief period, the Shiba Inu had a larger market cap than Dogecoin and reached the top 10 of all cryptocurrencies by total market capitalization.
new use cases
Traders successfully petitioned Robinhood, a popular mobile trading platform, to make the coin available to buyers and sellers, and it is also available on Kraken.
In addition, a series of 10,000 shiboshi – graphic designs representing the now famous breed – came to market. These non-fungible tokens are further increasing the popularity of the coin. But for investors to be successful, a coin must be more than a novelty.
The use cases for the SHIB coin are slowly emerging. For example, Shopping.io supports it, so holders can, in a somewhat roundabout way, use the coin to make purchases from Amazon, eBay, and Walmart. Newegg started accepting Shiba Inu before the holidays last year. In addition, SHIB is now the native token for the new Shiba metaverse, where users can use the coins to mint lands.
Maybe the metaverse is expanding. Shiba Inu has partnered with The Third Floor, a visualization company that collaborates with Marvel, to create environments and landmarks in the Shiba metaverse, FXStreet reported. Time will tell if Shiba Inu projects , Its metaverse in particular – will drop out.
go to the dogs
The Shiba Inu fell from its high in October 2021 to $0.000001234 on July 22 – a drop of almost 85%. If the hype surrounding the coin fades, the coin may never return to those levels. The general decline in the market for cryptocurrencies including major coins Bitcoin and Ethereum is also driving the price down for SHIB.
predictions
Do Shiba Inu Coins Have Any Future? Many websites are optimistic in the business of Shiba Inu coin price prediction. Coin Price Forecast believes that SHIB may grow by 44% by the end of 2022. Coin Gape predicted a target of $0.00008368 for this year, a 577% increase from its current price. Wallet Investor's average forecast is that SHIB will grow 5% from its current value to $0.00000130 by the end of the year.
And for what it's worth, Gov Capital predicts it will reach $8.42 by July 22, 2023 — an increase of 68,122,877%.
For the low-key use case, the primary value of the Shiba Inu lies in its level of hype. This leaves it to analysts to predict what investor sentiment might turn out to be — a notoriously difficult task.
Traders, take heed: should you invest?
These predictions predict huge returns this year and in the next several years. On paper, that kind of return certainly outweighs anything you could possibly find in stocks, bonds, or any other type of investment.
But cryptocurrencies, and meme currency in particular, are subject to financially disastrous trends for nosy investors. Even in addition to their highly speculative nature, fees and costs are incurred when trading digital currencies, and many investors have nothing.
Predicting the markets is fun and it's fascinating to consider the possibilities of a digital currency – especially something so cheap that you can buy almost half a million coins for $5. But the wise move would be to do a thorough research before investing any money on a Shiba Inu and never invest anything that you cannot afford to lose.
nice to know

There are many alternatives to the Shiba Inu that have not yet received wide publicity and may be rewarding patient investors. Samoyedcoin is another Doge mem token designed for use on the Solana payment network. The Monacoin, named for the famous cat character in Japan, has gained a limited number of use cases since its invention in 2014.
Daria Uhlig contributed reporting to this article.
The information is accurate as of 22 July 2022.
Our in-house research team and on-site financial experts work together to create accurate, unbiased and up-to-date content. We fact-check every single statistic, quote and fact-check using reliable primary resources to ensure that the information we provide is accurate. You can learn more about GOBankingRates' processes and standards in our Editorial Policy.